---
Sunbeam Tiger Images
Send us your best picture of your Tiger!
Published in order of receipt. (LIFO)
---
Tiger photos from an anonymous Tiger owner in California:
---
Bradley Burris' barn find: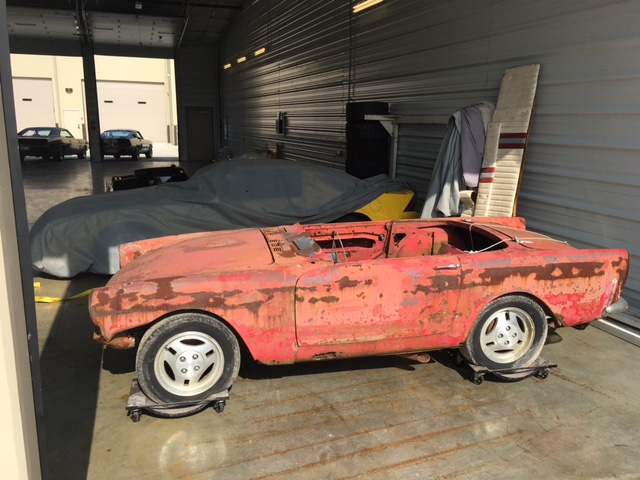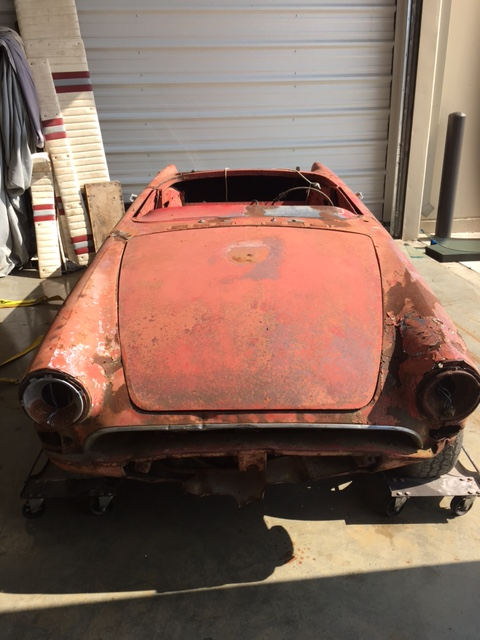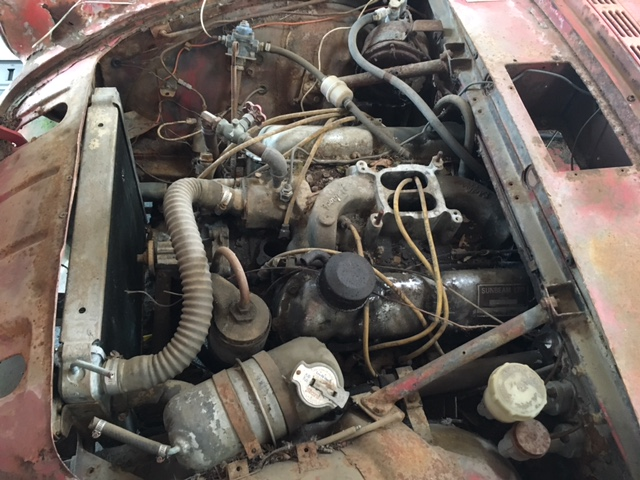 ---
Clyde McLaughlin sent in a photo of his MK1A with a 289 hipo 5bolt and a 3.55 lsd. It is shown with his brother's Mustang:
---
Curt Bowland sent me some pictures of his Tiger (from 2002-2009):
---
I was at the DeAnza Flea Market Dec. 2, 2006 and found a Johnny Lightning Dr. No Tiger and a British Invasion Alpine, so I bought them. Here are pictures of them:
---
Here are belated pictures of the 2006 Palo Alto British Car Meet held in September of 2006.
---

David Cherry sent in this picture from his archives of photos from the 2002 Indiana SAAC Spring Fling at the Brown County State Park in Nashville, Indiana. This first picture was Dave Johnson's from Illinois entry, or what was left of it .He always comes to the show every year and this was no exception.
Some more pictures submitted by David Cherry. One is an Arial view of tigers at a show > It was taken by him from a 100 foot electrical boom. The other interesting one is from the waters edge at old Coney Island, Cincinnati, Ohio .
Here is something different. Pictures of an original ail filter element in its box, never been opened.

It was a beautiful day, so I took my Tiger out. Came home with a hole in the rt. front tire. Mark Olson

"HI THIS IS MY 1965 TIGER 347" from "ALLEN289" in the U.K. 1,2,3,4.

"Here is my mid life crisis car". Jim Murphy, Toronto Canada.

"Some more tiger pictures from the Somerset Stages 2005", submitted by Gary Bulley 1,2,3,4,5,6.

Pictures from the 2005 Palo Alto British Car meet.

SUNBEAM TIGER MKI 1965 FROM JORGE DE LA ROSA, TENERIFE ISLAND, (CANARY ISLAND) SPAIN. Pic 1, 2, 3, 4.

"Here are some pics of my Sunbeam. It has been sitting for 13 years but still look at its condition..." Joey Hiykel 1966 Tiger MK1A B382001072 LRXFE JAL# 661104. Pic 1, 2, 3, 4.

"I have built a 1/32 Slotcar using the Revell static plastic kit from the sixties. I motorised it using an original Monogram slot car chassis from the sixties, it runs really well. Cheers, Derek Cooper, Slot car dealer" Pics 1, 2.

"A few more Tiger Pictures.... We won both the events featured....." submitted by Gary Bulley. Pics 1, 2, 3, 4, 5.

"Former vintage racer, yellow #35 SVRA, returned to origional BRG, 302, 5speed, owned since '85 by Mike Fuchs" Pics 1, 2, 3.

"Hi guys, my Tiger doing what it does best.... Gary Bulley" Pics 1, 2, 3.

Submitted by Paul Burr.

66 Tiger, Norway. Submitted by Helge Sindsen.


"Here is one of my own pics of B9472289 (TAC #289) next to the Hawker Hurricane at the "Battle of Britain Day" show at The Santa Monica Museum of Flying and airfield." From Steve Laifman.

"Just thought I'd add my Tiger on steroids to your web site. Photo taken at this years STOC national rally at Donnington Park, England. Mark 1 Tiger sports 5 bolt 289, 4 pot callipers and uprated suspension along with 16 inch wheels. Not bad for an original Tiger with only 56000 miles on the clock." Contributed by Dom Farley.

"Here's a couple of pics of ol 352 . . . loved that little car, 302/T-5, 3.55 posi, rollbar . . .the works! Thought I wanted that yellow beast . . . . " Submitted by David Adin.


"This is a picture of my Sunbeam Tiger circa 1990. It's now in a museum in South Australia." Contributed by Andrew Campbell.


"I thought you might enjoy some pictures of my Tiger. I won my third SCCA Solo2 National Championship this year and would like to share with the Tiger community." Pictures 1, 2, 3, 4 contributed by Gordon Kinney.

2003 Palo Alto British car meet. Lots of nice Tigers and a couple of nice Alpines.

2003 Monterey Historic Races, 6 minute video highlighting the 5 Tigers that participated. Mpeg format video file is approximately 30 meg. If you are using windows, you can right-click on the video link and save the file to your computer if your internet connection is not fast enough to view the video in real time. Video by Kevin Meek.

"The owner is Steve Davidson in Berkeley, CA. He lost his first Tiger in the English Channel, then bought a MK II out of Florida that needed way more work than he was willing to undertake and finally has the car he has always wanted."


"Hi, My name is Robert Seghi. I found this jewel in the rough in Woodland Hills Calif. it now resides in Simi Valley Calif. where it awaits a full restoration. I belong to S.T.O.A. and C.A.T. "


"These two cars are featured in an upcoming issue of British Car Magazine--April/May 2003. The black Tiger is a GT and the yellow Alpine is a series IV." Bill Atalla, Napa Valley, California.
Additonal photos 2, 3, 4.

"After 5-1/2 years, 3 resto-shops and about a years pay, it's finally done. I've attached a new picture to go with the before shot you already have. You can also find more details on the car here." Submitted by Steven Waybright, January 2003.


"Tiger on Two Wheels" Tiger owned and driven by Henry Vicioso at Road America, Turn 5, Sept 2002. This is the SCCA Solo II Champ car as raced by Barry Schonberger in the mid 1980's. Photo by Edmond. Another pic added on 12/23/04.

Vintage racer owned by Jim and Barb Foster, Calgary, Alberta, Canada.

"Please find a picture of my 65 mk 1Tiger. I have been her tamer since 1972. Together we have logged over 300K miles of prowling around. This cat has a 289 K motor from Shelby enterprises installed. Enjoy, Mike"


Tiger MkII, submitted by Dave Cherry, Cincinnati Ohio










2002 Palo Alto British Car Meet (submitted by Mark Olson)



2002 Willow Glen Founders' Day Car Show, Vintage racer owned by Kimberly Davis of Los Gatos, CA (submitted by Mark Olson)


B382001600LRXFE, owned by Andy Walker, Edmond, OK

Bill Tolson's Pre-production Number 1 Mark II Tiger.

Tiger GT (1 of only 15 produced) at Tigers United XXIV - won best in personalized class and best overall. Submitted by Bill Atalla.

Jack Brownell's Tiger, B382002190, outside of Milwaukee, WI. Submitted by Paul Brownell.


B382001303 in Houston TX, owned by Paul Brownell.

"I would like to add my car to the page. It started out as a 64 Alpine and has been modified slightly. Under the hood is a 351 Windsor which is quite capable of moving it along. It has been named "The Spirit of Lister" as that's how it was built and not an exact replica." Chuck Ingram.
Click to view pictures: Front View, Side View 1, Side View 2, Side View 3, Interior.

B9472096LRXFE; restored from 1993-1996, submitted by Ken Tisdale.


MkII Tiger, submitted by Jim Sencindiver.


Engine removal using portable garage, 4 post parking lift, and HD transmission jack; submitted by Don Daves. Click to view pictures: Close Side View, Side View, Rear View; Re-install 1, Re-install 2


Photo of "Mrs. Peel" submitted by: Chuck Champine (272K)
"Although Emma never actually drove a Tiger in the series, I thought her persona from that TV series more closely matched the personality of this beautifully restored '65 Mark 1 (VIN # B9470234). Many thanks to Paul and Marsh Johnson for their restoration work."

Submitted by: Hal Jean Click to view pictures: Front/side, Front, Rear/side, Rear/interior.


Submitted by: Dave Johnson/White Tiger Racing.
"While Production car racing in the mid-late `70s was not as wild as the GT classes that followed, the cars had to be highly modified to be competitive. Most puristas do not appreciate changes, but then if one wanted to play in SCCA Nationals with the Porsche and Datsun/Nissan factory teams, they were necessary. In addition to the wide body and wheels, it had dry sump oiling, a Ford 9 inch disc brake rear (easier to change gears than the Dana/Salisbury) a killer engine and suspension mods. The car still holds the SCCA C Production lap record for the Watkins Glen short course (Keith Bauer set it the year following his purchase of the car from me)(of course C Production evolved into GT-2 in the early `80s so it cannot be broken)."
July 1976: Blackhawk Farms Raceway, Northern Illinois.
October 1976: Indianapolis Raceway Park, Claremont, Indiana.
September 1978: Road America, Elkhart Lake, Wisconsin.


Mary Duval's Tiger (489K). Click here for more pictures.

Paul Sheahan's Tiger Collection (including a South African Tiger) 1999.

Mike Sutter's Tiger (274K) at San Diego British Car Day 1999.

From Ottowa Ontario Canada: A red 1965 Tiger(69K) and a custom photo of a white 1966 Mk IA(195K), submitted by Andrew MacLaurin.


A picture of the new K&R 1/43 scale Tiger model (13K), submitted by Larry Wright.

Submitted By Chris Mottram:
Robert "Jack" Jackson in his Mk1a (101K) descending a mountain gravel road in North Georgia.
Bill Cartus in his Mk1 (93K) descending a gravel mountain road in North Georgia.
Ted Stewart in his Series IV Alpine (80K) backing down a steep gravel North Georgia mountain road.
The annual Sunbeams of the South meet (132K) in Florida was forecasted to be hit by hurricane Georges that day. We decided not to go. Instead we took a day trip through the North Georgia mountains. From right to left Bill Cartus Mk1, Ted Stewart Series IV, Robert Jackson Mk1a, and Chris Mottram Mk1a.
Tigers in the woods. (110K) The gravel road was too steep to make it all the way up the mountain. Some lost traction, some suffered fuel starvation, one bounced a plug wire loose. We had to walk the rest of the way to the top where there was a Honda Civic (Front wheel drive - Argh!)
Tiger on the prowl. Robert Jackson (MK1a) (96K) descends a North Georgia Mountain Road.


Dick Barker and son Brad in their White Mk 1A, B382001472, (34K) at TU in Bakersfield. Dick bought this car new in 1967 from a Dodge dealer in San Diego. In 1972 it won the San Diego autocross class championship.

Dick's LeMans "Mule" (Factory Development Car)
Left Front View (35K)
Left Rear View (13K)
Right Rear View (40K)
This is the first of 3 Tiger coupes built for Le Mans in 1964. Used primarily for testing and development, B9499999 is sometimes referred to as the Le Mans "mule." When asked if "The Coupe" could compete at Tigers United XXIII for the Lord Rootes Trophy, Steve Sage said, "Yes, if that's not a Tiger, I don't know what is." As it turned out, the car was ineligible because it did not venture out for the rally, but it did place first in the concours (stock), and also won the Howie Schoenfeld Trophy. Most recently, it won both the "Best of Marque" and the "Peoples' Choice" awards at the 1998 San Diego British Car Days.


Larry Wright's timely Halloween contribution: Closeup (57K) or Normal View (63K)


Bob Hokanson submitted: The GRRR in T-GRRR. (159K)


Larry Wright submitted thirteen more pictures of his tiger:
A rose by any other name.... (14K)
Opened Up. (41K)
Driver's Side Interior. (37K)
Engine Compartment. (45K)
Dash. (33K)
Interior (49K)
Left Side. (47K)
Left Front. (34K)
Left Rear. (47K)
Right Front. (44K)
Right Side (46K)
Right Rear. (49K)
The Trophy (27K)

This is the new picture of Jeff Queen's tiger #39. (411K) Low Res (117K)

It is racing in VARA with Dale and Allen. This is the new paint as it used
to be red and yellow. Posted 9/11/98.


Al Johnson's:
Interior Shot. (47K)
Another interior shot. (47K)
Engine shot. (62K)
Front shot. (51K)
Another front shot. (41K)
Hood shot. (46K)
Right front view. (53K)
Rear view. (53K)
Trunk Shot. (45K)

Dave Wedekings 1967 Sunbeam Tiger Mk 1AB382002420
He's driven this car for 30 years.
Left Engine view. (71K)
Left Front Soft Top view. (59K)
Left Front Hard Top view. (41K)
Right Front Convertible Low view. (39K)
Right Rear Convertible view. (48K)
Right Side Hard Top view. (41K)
Tool Kit. (25K)


Here is B9473298 (124K) at it's previous home in KY. Now the prized toy of Jim Pickard and the only Tiger in Lafayette, LA. He drives this beauty to work every day.


Tiger ads submitted by Peter Stanisavljevich.
Ad 1 (41K)
Ad 2 (75K)


Tom Howard's Alpine project car:
Picture 1 (283K)
Picture 2 (286K)
Picture 3 (318K)
Picture 4 (335K)
Picture 5 (305K)


This is C.A.T. member Hugo Vu's 66 Tiger MK1A. (15K) He is currently in the process of reviving it after it's nearly ten years of rest.

This Tiger's picture (56K) was taken at the Bradenton Fun Ford weekend. I don't know who the
owner is (the file was sent by a member of the Fordnatics list), but evidently the car ran in the high 12's in the 1/4. Also, check out Burnout! (44K)
Submitted by Mike Wood 4/23/98
B382002273


Tiger Brochure Image: .jpg (46K) or .bmp (879K)
Makes good wallpaper. Submitted by Joe Hankins.

Chris Bartlett's stroked 302 Winsor 1966 Mk1A Tiger,(151K) in Victoria, Australia.


John Van Heertum's 1967 Sunbeam Tiger Mk1A, 382000985, 282K, Submitted 10/18/97

Here are a few photos of David Kirschner's '67 Tiger (#2589) and the real thing. Actually, the "real thing" is a full size animatronic tiger built by Jim Henson's Creature Shop for the film "Dr. Dolittle" with Eddie Murphy due out Spring of '98. (David is the sound mixer on the film.) He took the liberty of "airbrushing" out the puppeteers and mechanisms that control the beast.
The photos were originally taken with a digital camera and retouched with Photoshop. The are in the JPEG format.
Hood view 114K
Profile view 96K
Front view 103K
Submitted 10/5/97


Thought you'd like to see a picture(102K) of Jay Laifman, his Alpine, Steve Laifman, and his Tiger. We assume the lady is related. Submitted 8/11/97.

Tigers United 97 pictures from the concours and the annex parking lot afterward.

Mark Olson's MK1A B38200081(60K) before the commute to work on Thursday morning, June 5, 1997.


Keith Hampson's prototype MK2, (171K) Photo submitted by Phil Blay of the U.K.

B9470219 owned by Armand and Lorie Ritchie: (Submitted 5/13/97)
right side view. (21K)
right rear view. (21K)
left rear view. (21K)


Steven Jensen's 1967 Sunbeam Tiger MKII (206K) submitted 5/6/97.

Joe Levich of Boise Idaho owns this white Tiger.(12K) Here's the front view(8K), the rear view(9K), the engine(11K) and the interior(9K). Submitted by Joe Levich 5/5/97.


Phil LeBrun sent in three pictures of his Tiger. (Posted 4/28/97)
Left Front View(45K) with the hood open.
Right Front View(42K) of the engine compartment.
Right Front View(44K) with the hood closed.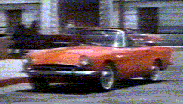 While surfing the net, I found the following screen captured image of Maxwell Smart's Red 1965 Sunbeam Tiger with the following text:
What kind of car did Max drive?
Max drove three different cars in the opens. The first was a red 1965 Sunbeam Tiger, driven in the open in the first two seasons. For the next two seasons, Max drove a blue VW Karman Ghia. In the final season, Max drove a gold, 1969 Opel GT. Interestingly enough, Max's Opel also appeared in the movie "Stripes." A thousand thanks to Charles Goin, President of the Mid-Atlantic Opel Association, for the car information.
Check out The Get Smart Home Page to see the site I got this information from.
"Actually he had 4 different cars in the openings. The three you mention are correct, but in the very first show of the series which was shot in black and white he drove a ferrari 250GT California. It takes an elderly TV comedy fan who loves interesting cars to come up with this one!" Submitted by Jim Malloy

Stephen Waybright's '65 Tiger (103K) posted 2/1/97.


Paul Sheahan's 1967 Sunbeam Tiger MK1A, B382001555, TAC #91 red, meticulous, authentic ground-up restoration. Stunning original show winner has optional factory ammeter, clock, and visors. Previously owned by Dave McDermott.
Front Right View 370K
Engine Compartment 275K
Dash 227K
Trunk 250K
Submitted by Norm Miller 10/24/96.

Pictures from the 1996 Palo Alto, CA All British Car Meet. Taken by Mark Olson with a Logitech Photoman camera.


Cullen Bennett's Arizona Tiger. (37K) Submitted 9/19/96.

Pictures of Kirk Even's recently purchased Mark II project. Submitted 6/25/96.

Pictures from Rob Kempinski's MK1A restoration project. Submitted 2/26/96. (I'm not too far behind, am I?)


This picture (136K) was in the April 1996 Road & Track.
Submitted by T.J. Higgins
The next 3 photos were submitted by J. Craig Muller at http://www.hvdc.ca/

This is a (31K) picture of a Tiger (unknown) running the course at Buttermilk mountain near Aspen. Diving into the hairpin produced an interesting blurred effect when using a slow shutter speed. Actually a little scary to take since I had to get pretty close.

Here is a Mk2 Tiger (45K) front corner shot (car unknown) taken at Suni 89. It looks almost like and artist painting and would make a great wallpaper. Note the reflections of people walking by in the hood. The paint and chrome is immaculate. One of my favorites.

Craig Muller's (Winnipeg, Canada) B382001368LRXFE in the Colorado mountains at SUNI 89.


The infamous three-seat Tiger. (56K)
The picture is from Modern Motoring and Travel, 10/66
The caption reads: "This highly modified Sunbeam Tiger has been attracting quite a few envious glances from the motoring public in Halifax, Yorkshire. It was made for an esthusiastic Tiger owner Mr. Raymond Siddall, who wanted the Tiger's exceptional performance with plenty of head room in the rear.
The conversion was carried out to Mr. Siddall's own specifications by Woodall Nicholson, the old-established coach builders in Halifax, and it transformed the 125 m.p.h. V8 Tiger into a luxurious three seater with plenty of head and leg room for the rear seat passenger."


Roland Dudley's "Patina Cobra." (75K)

This picture was found on a page listing hillclimb results/info from the SOLO 1 competitions in the Northeast. This car is driven by Merlin Miller who is leading the points in the GT-2 category. He has also set a number of track records, and overall top times of day with his Tiger. Submitted by Chad Raynal.


Larry Wright's Mark I Tiger. 6 pictures submitted by W. L. Mitchell.


Tom Dankel's Red Rocket. About 230K JPEG image.

Jeff Queen's racing Tiger.(200K).

14 pictures from the 1995 Palo Alto, CA All British Car Meet. Taken by Mark Olson with a Logitech Photoman camera.


66 Mk IA B382000327LRXFE TAC #147 previously owned by Jim Sangster, San Jose, and Keith Wall, San Carlos.

Sunbeam Tiger Mk1A B382002202 belonging to Kevin & Marla Meek.
Photo taken at Carmel, California prior to restoration.


Tom Patton's TE/AE-sponsored Team Tiger during the June 1993 Sprints at Elkhart Lake. Team Tiger has had increasing success and will undoubtedly continue to be a fierce competitor in SCCA's GT-2 class. The car started as a stock 1967 Tiger Mk1A and is in its fifteenth year of racing.
Photo by Gordon L. Jolley Motorsports.
Picture from the 1995 TE/AE calendar for October.
Submitted by T.J. Higgins.

"4 Tiger", one of Steve & Jan Towle's three Tigers , is used as a three season daily driver at their home in Merrimack, NH. It is shown here with a view of Belgrade Lakes in Maine in the background.
Picture from 1995 TE/AE calendar for September. Photographer not credited.
Submitted by T.J. Higgins.

B382002664 Owned and driven by Bob Norton of La Crescenta, CA
Taken at the Streets of Willow CAT event in the spring of 1994.
Shot with a 400mm lens on a Canon A-1, processed onto a PhotoCD.

B9470340 a '65 Tiger owned by Dave and Sandra Ho of Vancouver BC, Canada. Picture from the 1991 Portland All-British Field Meet.
Submitted by T.J. Higgins.

B382001987 at a 1993 STOA Meeting at Sunbeam Specialties. Owned by Jeff & Yvonne Carter. Jim Lowrie's Green Machine is in the bac kground. (Not the Jeep.)
Submitted by T.J. Higgins.


B382000081LRXFE, TAC# 18,
Owned by Mark Olson of San Jose, CA
---
Back to the Classic Tiger Home Page.